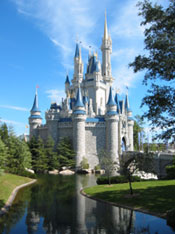 Opening in 1971, the Magic Kingdom Park covers 107 acres. At that time there were 23 attractions in six themed areas: Adventureland, Liberty Square, Frontierland, Fantasyland, Tomorrowland and Main Street, USA. The seventh themed land, Mickey's Toontown Fair was added and in 1988 and the attractions grew. Magic Kingdom is the first theme park to be built and Disney World and was the start of Walt's dreams.

Guests enter the Magic Kingdom through a tunnel under the Disney World Railroad. You will immediately be in the Town Square complete with City Hall and a Fire Station. Main Street USA is the name of the street that takes you right to Cinderella's castle. Through the street you will pass by some great shops including the Bake Shop and the Main Street Cinema. Don't forget to stop and watch the live entertainment that could perform at a moments notice. You can also catch a ride in Town Square or in front of the castle for a one-way journey on your choice of horse car, omnibus, jitney, horseless carriage or fire engine.

The park is laid out like a wheel, with the hub centered directly in front of the castle. Pathways act as spokes leading to the themed areas. Main Street USA is inspired by Walt Disney's memories of his hometown and is a re-creation of early twentieth century small-town America.

Adventureland is filled with a mix of jungles, wild animals, pirates and a Middle Eastern bazaar. It is the home of some of the best loved attractions including the Pirates of the Caribbean and Jungle Cruise.

Frontierland will bring you to the Wild West, including adventures such as Splash Mountain and the Big Thunder Mountain Railroad. Liberty Square honors the past with the Hall of Presidents. It is also home to the very spooky Haunted Mansion.

Fantasyland is filled with the fairytale experience with castles, princesses, pixies and boys who just won't grow up. Mickey's Toontown Fair is the very place to meet Mickey, Minnie and the rest of the gang close up and in person.

Toontown is geared towards the littlest Disney guests with a kid size coaster and The Barnstormer at Goofy's Wiseacre Farm. Tomorrowland is a look into the future where you can hurtle through the universe on Space Mountain, watch Walt Disney's Carousel of progress to see what he had in mind for the future, or battle aliens at Buzz Lightyear's Space Ranger Spin.
Adventureland
Frontierland
Liberty Square
Fantasyland
Tomorrowland
Mickey's Toontown Fair
Other Attractions
Entertainment
Tours
Fun Facts