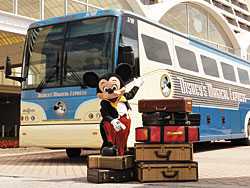 Whether you plan to go on your Disney vacation by plane, train or automobile, it can be challenging to find the most economical way to get to your destination. The volunteers at DisneyMagic.ca have done some research to help you keep the money where it should be, in your wallet.

At Walt Disney World the transportation from the airport to your hotel is something you'll have to arrange yourself, unless you purchase a package through a travel agent that includes transfers.
Several options for getting from the Orlando Airport to Disney World include: Taxi, Shuttle Service, Private Town Car, Rental Car, Happy Limo, and Disney's Magical Express.
Disney's Magical Express
Taxi
Car rental
Luxury Sedan, limo and Van
Mears Motor Transportation Service Shuttle


** The purpose of this page is to act as a guideline, prices are subject to change and the site administrator/staff at DisneyMagic.ca can not be held responsible for pricing changes.