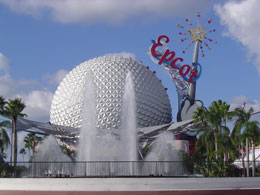 On October 1, 1979 ground broke for the second Theme Park at Walt Disney World. Three years and $1.4 billion later, on October 1, 1982, Epcot opened at Walt Disney World. The Experimental Prototype City of Tomorrow is connected via monorail to the familiar Magic Kingdom theme park. Epcot is dedicated to international culture and technological innovations.
Epcot stands for Experimental Prototype Community of Tomorrow. It was once an idea of Walt Disney's to build a model community that was home to twenty thousand residents. The community was to be built in the shape of a circle, with businesses and commercial areas in the center, schools and recreation complexes around it, and residential neighborhoods along the perimeter. Transportation was provided by monorails and automobile traffic would be kept underground leaving pedestrian to move safely above ground. Instead, the vision was not realized and the idea was turned into a theme park.

Epcot is twice the size of Magic Kingdom or Disneys Hollywood Studios, so be prepared to do a lot of walking. Good walking shoes are a must at this park. It is hard to take in all the sites in one day; however this theme park was built to allow guests to customize their day depending on personal interests.
Epcot is made up of Future World and World Showcase. Future World is the first themed area as you enter the park. Here you can experience the past and future of technology advancements in the larger-than-life buildings. World Showcase highlights the history, architecture, culture and dining of the eleven countries that surround the 40 acres World Showcase Lagoon. Each individual pavilion is displayed around a two kilometer promenade. The pavilions replicate familiar landmarks such as the Eiffel Tower and the Canadian Rockies.
Attractions at Future World
World Showcase Pavilions
Entertainment
Special Events
Tours