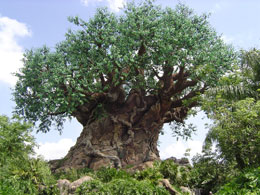 Enter the exotic Oasis through the park gates to one of the largest Disney theme parks in the world, sprawling over 500 acres. In comparison, the park is five times bigger than Magic Kingdom and twice the size of Epcot.
This park is home to over 1700 animals representing 250 species.Over 4 million plants, trees, grasses and shrubs were planted to produce this jungle in midst of the Disney World. It is the newest theme park to join Disney World. The park opened to the public on Earth Day, April 22, 1998. Animal Kingdom is the first Disney theme park to be themed entirely around animal conservation. Here you will enjoy the sites and sounds of nature, educate yourself about the exotic animals, and have a fun-filled Disney day while you are there.
Follow the path through Discovery Island where you will get the first glimpse of the Tree of Life. The Tree of Life is the central point in this theme park. It has been carved out of wood showing animals of the world. Go underneath the Tree of Life and enjoy the 3D show, It's Tough to be a Bug. Take a safari and see amazing animals out in the wild in their natural habitats. Enjoy white water rafting on the Kali River Rapids, watch the live shows that take place daily, or journey through the Himalayas on Expedition Everest.
Touring the Animal Kingdom takes less than a day with crowds being their heaviest between opening and mid afternoon. Eating a good breakfast and then taking a late lunch is recommended so you can still enjoy the dining at the park which is a cut above the average Disney counter-service food. For some quiet time away from the crowds, stop by the Flame Tree Barbecue's waterfront dining pavilions.
The Oasis Exhibits
Take a minute to transition from the real world to the Animal Kingdom. Walk along several different trails to choose from and view the cooling waterfalls, lush tropical plants, trees and flowers that prepare you for what is ahead inside the park. Stop at the viewing areas and give the birds and animals a chance to appear. At the end of the pathways emerge into a clearing where the first glimpse of the Tree of Life can be found.
Kids Discovery Clubs
Children will be able to use their imaginations while exploring the six interactive learning stations located throughout the Park. They will have the opportunity to construct a dinosaur from a pile of bones, go on a scavenger hunt, become a wildlife detective, and see from a bug's point of view and more.
Discovery Island
Camp Minnie-Mickey
Africa
Asia
Dinoland USA
Rafiki's Planet Watch
Entertainment
Tours