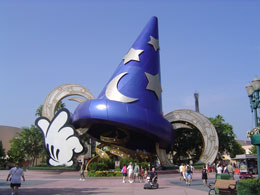 Disney's Hollywood Studios (formerly Disney-MGM Studios) was the third theme park to open in May 1, 1989, spanning 135 acres. On opening day chairman Michael Eisner declared, "Welcome to the Hollywood that never was and always will be". Here guests of all ages get to experience the excitement of show business by strolling down Hollywood Boulevard, which is surrounded by sights and sounds of Tinseltown in the 1930's.
A water tower was built and is prominently displayed as a fitting tribute to the studios of the past. The Earffel Tower adds a distinctive Disney twist showing off Mouse Ears. While is has long been the park's icon, it is rivaled by the central focal point of the 122 foot tall Mickey's Sorcerer's Hat, which is a tribute to Fantasia.
Guests can witness the inner workings of living, breathing movie and television production facilities. At the end of Mickey Avenue, hop on the tram for a Backlot Tour to see the exciting behind the scenes look into the world of special effects. You can watch classic Disney characters being brought to life through the magic of animation, or learn to draw a Disney character of your own. You will be able to seek the thrills of the Rock 'N' Roller Coaster and the chills of the Twilight Zone Tower of Terror.
Dining at Hollywood Studios is entertaining in itself. The 50's Prime Time Café, will take you back to the classics where you will have to answer to your "Mom". At the Sci-Fi Drive In, you can enjoy watching the black and white movie clips from a convertible. Counter service is also available including Toy Story Pizza Planet, Backlot Express and the Sunset Ranch Market, to name a few.
Hollywood Boulevard
Echo Lake Area
Streets of America
Mickey Avenue
Animation Courtyard
Sunset Boulevard
Entertainment